Astrological Software Offered by Katarina

All transactions are secured through PayPal payment services. You do not need a PayPal account to purchase these items as you can enter your credit card information without logging into PayPal. If you have a PayPal account and wish to use it for payment, you may do that as well.



SOLAR FIRE V9 is an exciting culmination of years of hard work and creativity. This astrology program for Windows was first produced in 1992 and has been expanding ever since to become a world leader. Earlier versions brought an unprecedented level of ease to casting and working with astrological charts. The current version adds many more calculations, extra convenience features, more interpretive text, and exciting new kinds of graphic displays. SOLAR FIRE V9 contains something for everyone. For Advanced Astrologers and professionals, it has a great variety of high-precision astrological calculations, and an exceptional degree of user-customisation. For Novices, its innovative point-and-click chart interpretations provide an enjoyable way to learn, and its many easily-explored options are an invitation to experiment with new techniques. SOLAR FIRE is designed to provide easy access to high quality chart production — easy in the Windows environment. SOLAR FIRE V9 uses state of the art planetary calculations from the highly accurate Swiss Ephemeris. You can create charts galore. READ MORE
Use the dropdown box to choose how to obtain or upgrade to Solar Fire v9!
Sirius

Sirius is the most comprehensive and most powerful of the three main Cosmic Patterns programs. Sirius includes everything that is in Kepler, plus many additional features. Sirius is by far the most comprehensive astrology software in the world. It is also so elegant and easy to use that the huge number of features do not slow you down or get in your way. READ MORE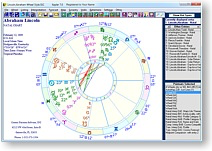 Kepler 8.0

Kepler is very easy to use! It can be used by people with any level of experience, from novice to professional. Although this may sound impossible, we have made it possible by having well organized menus; novices can stick to the basics, and experts use the advanced features. READ MORE